Our online BMAT preparation tool used by over 10,000 students worldwide.
BMAT.Ninja™ is our online BMAT preparation system that's been running for the past few years. It gives you pretty much everything you need to prepare effectively for the BMAT.
BMAT.Ninja™ is split into 3 parts – the Training Temple, the Practice Dojo and the Exam Arena.
The Training Temple has written tutorials and notes for Sections 1, 2 and 3, with interactive practice questions and 50+ example essays. The Practice Dojo is the biggest BMAT question bank in the world, with over 1,200 questions available free of charge. And finally, the Exam Arena contains worked solutions for the 2009-2015 BMAT past papers, along with all past TSA Oxford papers, and allows students to take the papers on our online system and get a breakdown of their score.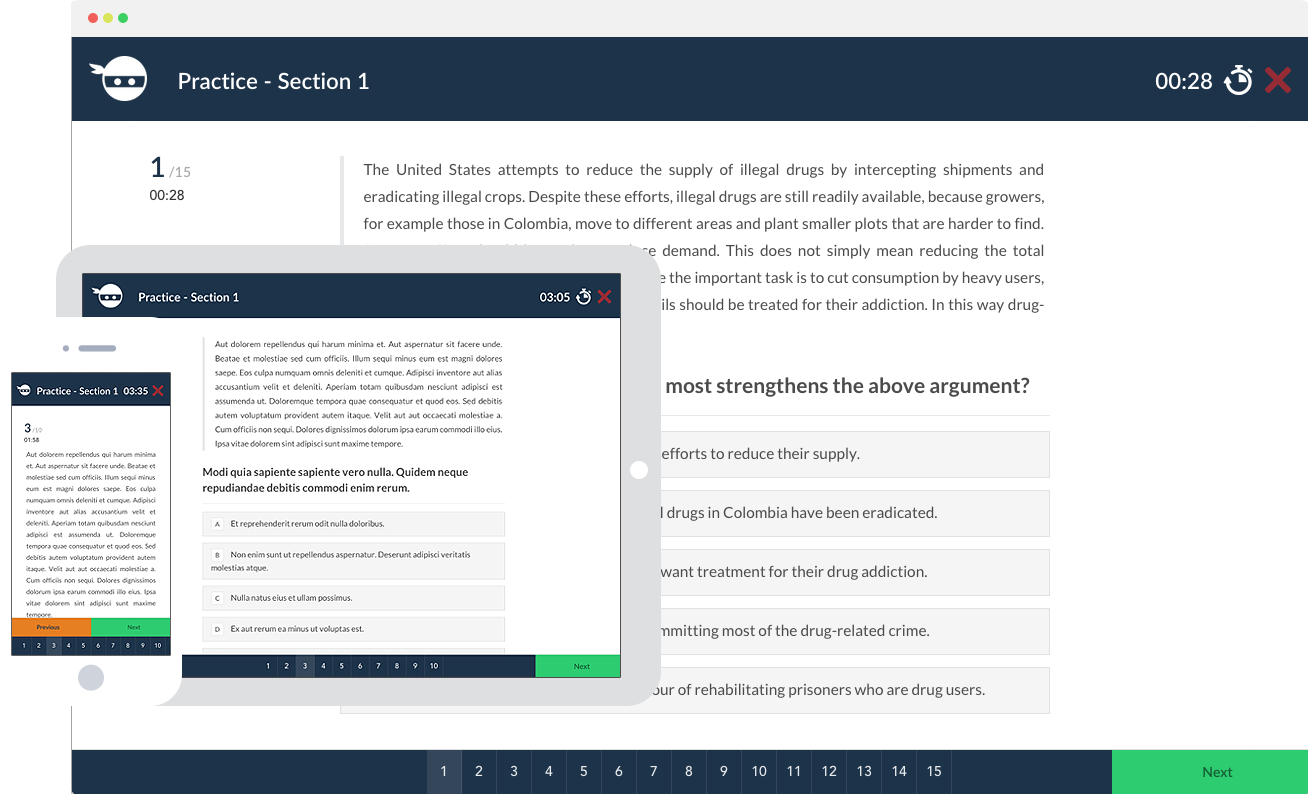 How much does it cost?
The 3 different areas of BMAT.Ninja™ (the Training Temple, Practice Dojo and Exam Arena) are priced at £29 each.
We've priced the various areas of the website separately because students use BMAT.Ninja™ in different ways. We'd suggest checking out the free content on the website before committing to a purchase – that way, you can decide which bits are the most useful, and you'll be able to guide your purchasing accordingly.
Having said that, we do find that most students buy all 3 BMAT.Ninja™ packages. Given that the BMAT is such a high-stakes exam that can literally decide the course of your life, spending an extra £29 to gain access to a high-quality resource doesn't seem like a risky investment for most people.
Bursaries
At 6med, we're committed to helping widen access to Medicine. We're aware of the fact that by providing admissions-related services to paying customers, we may be contributing to the problem, which is why our Bursaries programme is at the forefront of everything we do.
Our Bursaries system operates on a "pay what you can" basis. If we approve your bursary application, you'll be able to visit the Account page and upgrade your account with any or all of the packages we offer. The amount you pay is entirely down to you – if you want, you can get all of the upgrades totally free of charge, and we're perfectly happy for you to do this. If however, you can afford to pay a few pounds and think the resources you're getting are worth it, then please pay what you can.
More information on how to apply is available in the Bursaries area of the website once you're logged in.